Please Fill Out the Form Below
2019 Top Performer Certificate by Ethiopia Revenue & Customs Authority for being diligent and accountable taxpayer.

Young graduates facing the state-of-the-art Ethiopia Airlines Cargo Operations during a U3 facilitated field trip.
.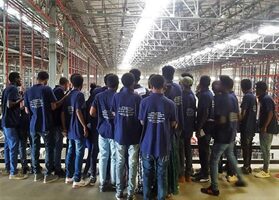 "U3 is a young & responsive business! Their business and hearts are in the right place!"
Tadesse Belete, Helix Pharmacy, Open 24hrs, 1500+ brand medicines
​"(U3) is persistent and relentless...that, and (U3's) sound financial management is key to make it in this business!
Senayte Reta, Takele Pharmacy, Working from 6am-11pm, 800+ brand and generic medicines
"I have watched this company start, crawl and now leap ambitiously to make a difference in Ethiopia. I't's inspiring to be partners."
​Shiferaw Gumel, Nahim Pharmacy, 20 years services, 700+ medicines